Coco-coir pots are made up of the coconut hull that is derived from the fibrous body between the husk and the coconut. Coir Pots are Eco friendly, 100% biodegradable, natural and organic. Coir Pot is a biodegradable cultivation pot made of coconut plant fibers. Coco pots are great for roots aeration. These coconut coir pots are more sustainable alternative to peat pots. These are manufactured by making use of natural coir fiber, which has enabled it to retain the maximum amount of water. They hold up longer and stay moist longer after watering than peat pots do. It is widely used for horticulture, in ornamental plant, vine and tree nurseries, as well as for the domestic gardening market. These biodegradable pots are an excellent growing medium because plants can be transplanted into the pot itself. Coco-coir pots have an exceptionally high permeability to water; air and roots. As coco pots are great for roots aeration they are sturdy on the tray and easy to transplant when you start off with our seeder pots. Unlike peat pots, the roots can easily make their way through the fibers so you can plant the whole pot in the ground.
The coir pots break down naturally in the soil, which minimizes root disturbance at the time of planting. Coir Pot is used by those looking for faster cultivation, an excellent root system and re-establishment without any shock from transplanting. We have developed this product by making use of high-grade raw material and in compliance with the set industry quality standards. Our esteemed clients can avail these products from us in various shapes and sizes.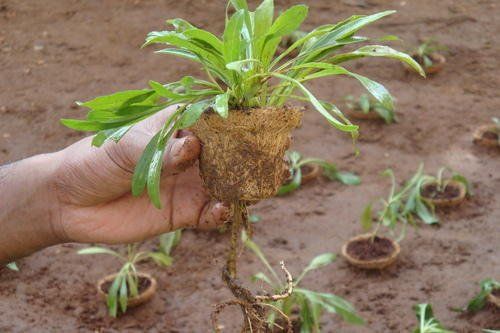 Our coco pot is made up of coconut fiber which holds water for a longer duration. Give way for the green product which had made a mark in our Home. For affordable and eco-friendly alternatives for planting, coconut (coir) fiber pots are considered more environmentally friendly than plastic pots. They help in faster plant growth by using automatic air pruning mechanism. For those who want to grow their plants faster organically, shifting from plastic pots or cement pots to coco pots is the best option.
Coco coir has excellent water holding capacity while still promoting good drainage and aeration. Unlike peat, moss coir is 100% biodegradable. The texture of the coir pots allows the water and air to penetrate quickly. Due to this, the roots can breathe, and there is no concussion of roots. Coco coir pots are ready to use for most plants without adding lime. Nutritionally, coco coir is rich in potassium, iron, manganese, copper and zinc. So, if you are growing hydroponically, you can consider using these pots as they can provide the correct balance of nutrients. Coir also helps in the diffusion of water and air, which helps the roots, to permeate the walls of the pots with complete ease.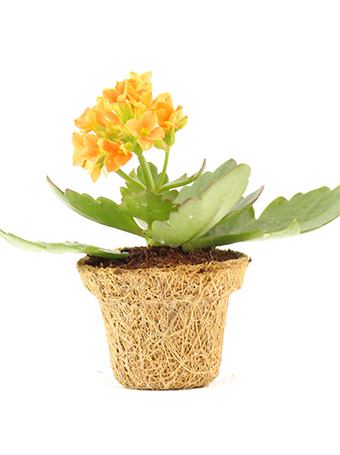 Coconut fiber has become a favored grow medium also because it prevents nutrients from leaching away. Simply dig and transplant the whole coco coir pot into the ground or re-pot it in a big container, without the hassle of coiling and tangling of roots. The pot will disintegrate all by itself. Thus, using coir pots will ensure better growth, higher yield and less disease infestation. Coco pots have been proven to grow healthier plants faster. They are produced for use in horticultural farms, flower gardens, greenhouses, and nurseries. Coir pots can be used with natural flower plants to give homes and offices an elegant look.